Your Guide to the Perfect Wedding Cake
The wedding cake tradition has been in place since Ancient Roman times, with the ceremonial breaking of wheat or barley cake over the brides head for good fortune. Luckily for modern day brides these traditions have stayed in the past and now we are blessed with the best part, the stunning designs and delicious flavours!
The tiered white wedding cake we have come to love began with the marriage of Queen Victoria in 1840, along with this new sculptural cake style came the creation of royal icing, still used predominantly in cake decorating today.
Baking has been brought to the forefront of the gastronomic world with an increased presence of small bakeries, reality TV shows and on social media. Modern wedding cakes are individual works of art and can come in any flavor, colour, size and design imaginable, here are some of the most popular cakes to feature in modern weddings.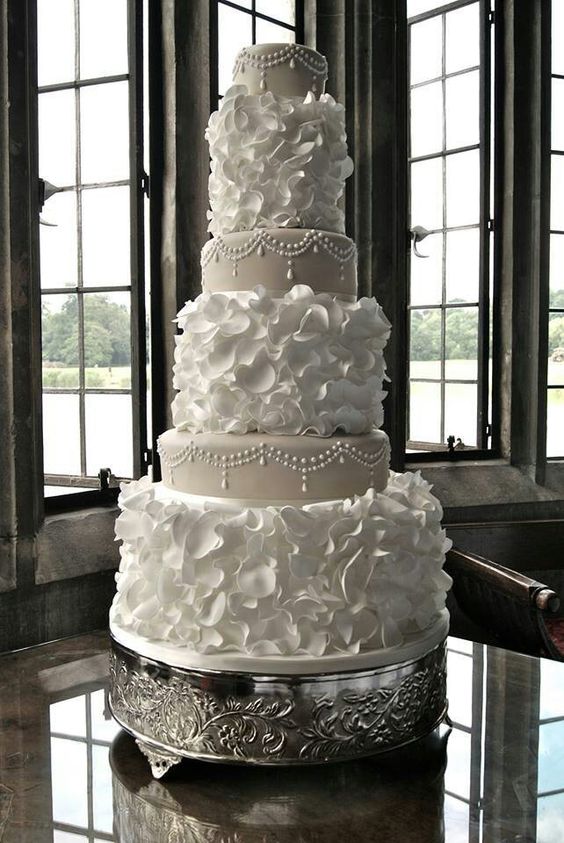 Traditional
Smooth, white fondant and intricate pearlescent piping work are the trademarks of the traditional cake style. Traditional cakes are three or more tiers, depending on how confident your baker is the higher the better! Different shades of white and ivory highlight the elegant piping, quilting and pearls, generally with a good dash of luster dust for extra sparkle!
Flavour Profile: Rich, boozy fruit cake or your favourite mud with contrasting ganache
Photo credit: Colin Cowie Weddings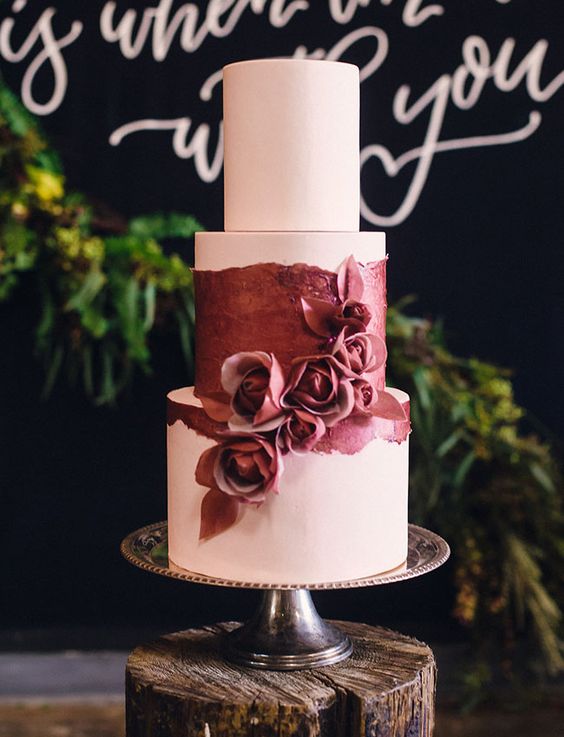 Contemporary
A more graphic take on the traditional tiered cake, using colour, bold patterns and unique designs. With clean, crisp edging, many contemporary cakes are iced with buttercream or Italian meringue as opposed to traditional fondant. Contemporary trends come and go with seasons, think ombre for Summer and Autumn, and solid colour for Spring and Winter.
Flavour profile: Orange and almond, red velvet or green tea pandan sponge
Photo credit: Hey There Cupcake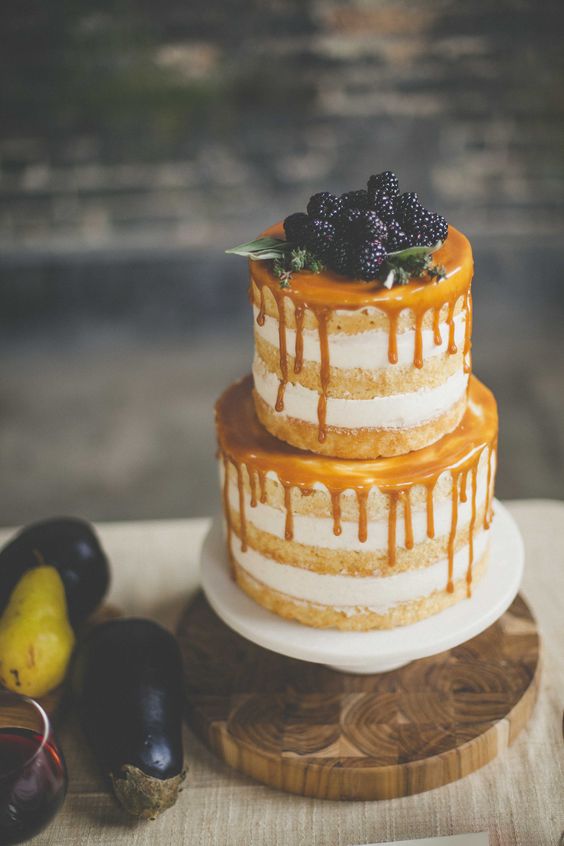 Naked
The biggest cake trend in the market right now! Take your favourite sponge and layer it high with lucious creams, custards, jams, ganache's, fresh berries, fruits and flowers. Naked cakes are not fully iced, but may have a thin, render-like coating, dusted liberally with icing sugar or left natural. They are perfectly suited to a summery outdoor wedding, the rustic styling makes them an unassuming but show stopping centerpiece nonetheless.
Flavour profile: fresh berries, jam and cream, chocolate on chocolate, coconut sponge with passionfruit cream and lime curd for a tropical twist
Photo credit: I Could Kill for Dessert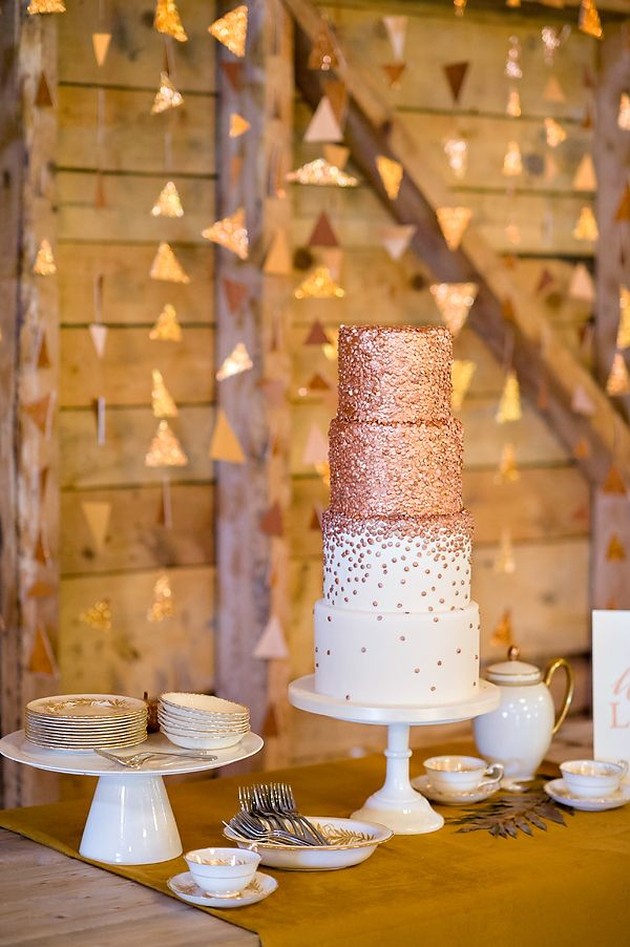 Metallic
Add some elegant shimmer and glam through a show stopping metallic cake design. Cakes can be top to bottom gold on gold or more understated with the addition of a single metallic layers, decals, piping or dusting. If you are going for a simple white on white theme, a metallic cake could really bring the whole style together with a pop of glimmer!
Flavour Profile: White chocolate and raspberry, lemon or classic vanilla
Photo credit: City View Bakehouse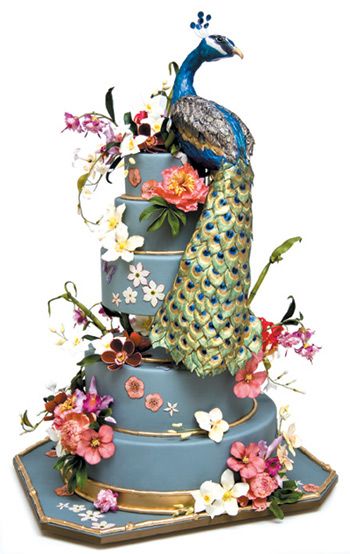 Sculptural
For many this will be the only time to be involved with such an elaborate cake design, so why not go big! Whether it is a fairytale castle, renaissance themed or your favourite mythical creature or superhero there are some amazing bakers who can craft thing you desire. These cakes are designed to be the centerpiece of the reception space, and you may need to have a 'kitchen cake' as well to serve to your guests.
Flavour Profile: Your cake may need some support, so think denser cakes like your favourite mud filled with delicious butter cream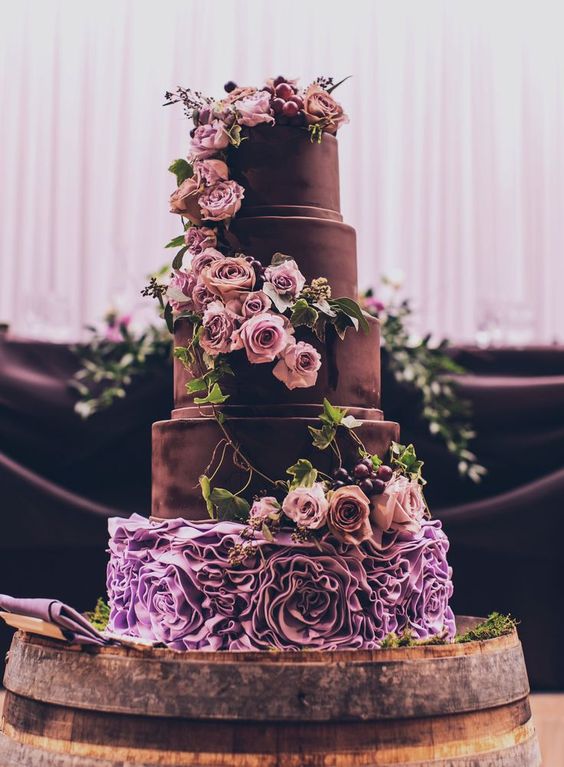 Floral
The addition of fresh flowers to any cake can take it from simple to incredible. Floral design can be fresh, silk or sugar craft if going for a more traditional style. The amazing array of colours and textures provided by flowers make for a stunning addition to every cake design. A floral design also allows you to play around with matching or contrasting flavours.
Flavour Profile: Orange blossom, rosewater and lavender
Photo via: Mod Wedding
Share on:
You May Also Like:

Schonell Weddings & Events Photo Shoot

Real Wedding: Nick & Emily Aslin

How to Schedule a Reception
---
Comments