Brisbane Weddings
Get an insider glimpse into a Brisbane Wedding held here at the University of Queensland in St Lucia.
---

You have said I do…now you can relax and enjoy the party you have been planning for the past 12 months!
Although the ceremony is the most important part of the day the focus tends to be on the reception - with some couples planning the details down to the minute. Receptions are the most expensive part of the day so an efficient schedule will see you get the most out of the time and your dollar.
There is a tried and tested reception run schedule that ensures the guests and yourself have plenty of time to eat, catch up and of course dance! With most venues offering a five to six hour reception, the time can go quicker than expected, keeping on track means no stress and a great night for everyone.
The Schedule
The Cocktail Hour – time allocated 1 hour
Considered an essential for the modern formal dinner reception. It not only gives your guests somewhere to go whilst you and your bridal troop are out and about for photos, but it also provides a bit of elegance for those who might not normally enjoy a beautiful tray of serviced canapés. This time allows guests to mingle and catch up - which may not have occurred during the ceremony - and to ease into the party mode with a glass of bubbles or two. Don't forget to check with your venue if they can serve a cocktail during this hour to make it extra memorable for your guests.
The Entrance – time allocated 10 minutes
This is an opportunity to really set the tone for the rest of the night. Choose something upbeat and energetic to elevate the party mood - plus makes for a great video!
The Dinner – 2 hours
A formal reception follows the traditional dinner service of entrée, main course and dessert (more commonly wedding cake than a prepared dessert). This can take up a good portion of the night, make it worthwhile and take your time to pick a delicious menu for your guests!
Cutting the cake and speeches– 30 minutes to one hour
Cutting the cake prior to speeches allows the kitchen time to prepare the dessert.
This is the only part of the night that can really drag out if the Master of Ceremonies is not on their game, so keep speeches short and to the key members of the bridal party and family. If you have a lot of people wishing to make a brief speech have the MC announce the opportunity during the food service period and give them one minute each.
The First Dance – 10 minutes and into the night!
The first dance often signals it's time for everyone to get into full party mode and onto the dancefloor for the remaining 1-2 hours of the reception. Have the playlist ready to go straight after the formal dance and use the MC to get everyone up and moving.
The Departure – 15 minutes
Circle, arch or a big group photo use this time to thank all your guests and say goodbye for the night. This is a great way to help move everyone out of the venue on time to ensure you don't get hit with any additional charges.

Don't Forget!
Housekeeping and formalities
Although not the most exciting part of the reception, it is important to lay some ground rules down for the night. The role of your MC is to entertain, keep to schedule and present the house rules (generally smoking areas and emergency exits). Make sure they are familiar with the schedule and help to keep everyone on track.
Use your wedding coordinators experience and knowledge
Chances are your wedding coordinator has planned a few events in the past and is therefore a wealth of knowledge and experience that you have already paid for! Use this knowledge ask questions and work with them to plan the perfect reception for your wedding in your selected venue.
---
The wedding cake tradition has been in place since Ancient Roman times, with the ceremonial breaking of wheat or barley cake over the brides head for good fortune. Luckily for modern day brides these traditions have stayed in the past and now we are blessed with the best part, the stunning designs and delicious flavours!
The tiered white wedding cake we have come to love began with the marriage of Queen Victoria in 1840, along with this new sculptural cake style came the creation of royal icing, still used predominantly in cake decorating today.
Baking has been brought to the forefront of the gastronomic world with an increased presence of small bakeries, reality TV shows and on social media. Modern wedding cakes are individual works of art and can come in any flavor, colour, size and design imaginable, here are some of the most popular cakes to feature in modern weddings.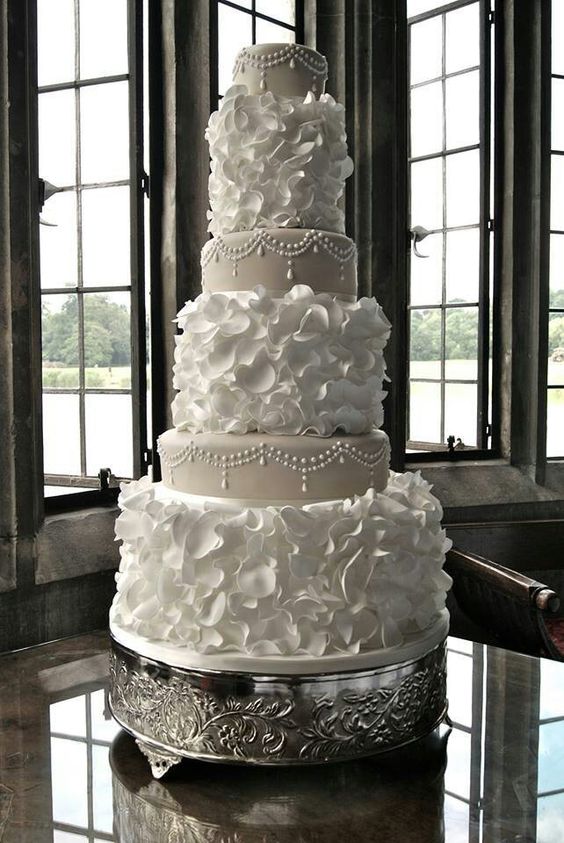 Traditional
Smooth, white fondant and intricate pearlescent piping work are the trademarks of the traditional cake style. Traditional cakes are three or more tiers, depending on how confident your baker is the higher the better! Different shades of white and ivory highlight the elegant piping, quilting and pearls, generally with a good dash of luster dust for extra sparkle!
Flavour Profile: Rich, boozy fruit cake or your favourite mud with contrasting ganache
Photo credit: Colin Cowie Weddings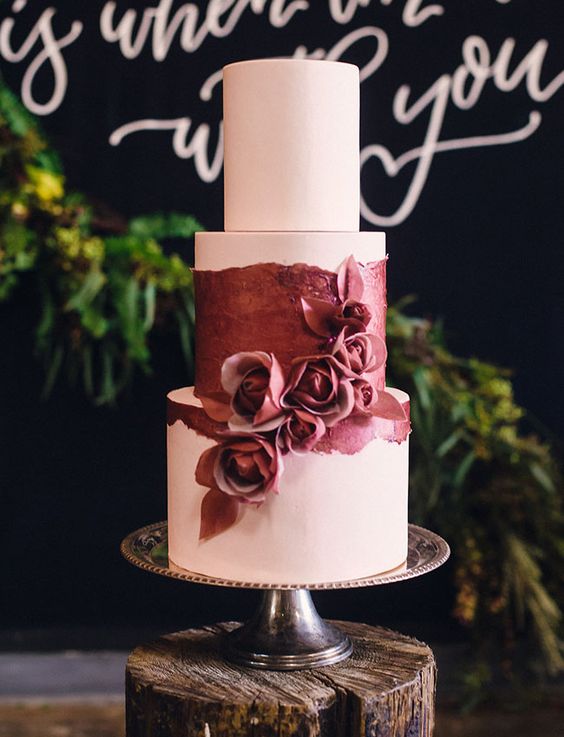 Contemporary
A more graphic take on the traditional tiered cake, using colour, bold patterns and unique designs. With clean, crisp edging, many contemporary cakes are iced with buttercream or Italian meringue as opposed to traditional fondant. Contemporary trends come and go with seasons, think ombre for Summer and Autumn, and solid colour for Spring and Winter.
Flavour profile: Orange and almond, red velvet or green tea pandan sponge
Photo credit: Hey There Cupcake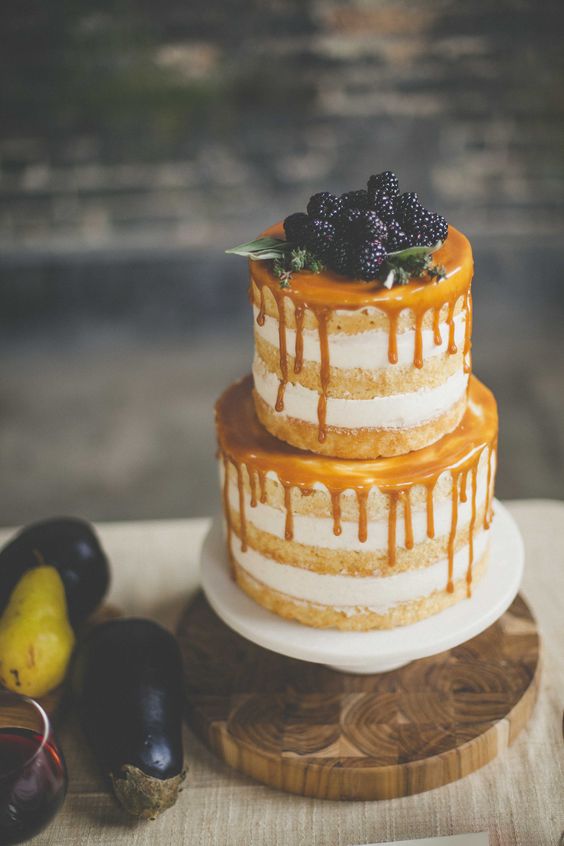 Naked
The biggest cake trend in the market right now! Take your favourite sponge and layer it high with lucious creams, custards, jams, ganache's, fresh berries, fruits and flowers. Naked cakes are not fully iced, but may have a thin, render-like coating, dusted liberally with icing sugar or left natural. They are perfectly suited to a summery outdoor wedding, the rustic styling makes them an unassuming but show stopping centerpiece nonetheless.
Flavour profile: fresh berries, jam and cream, chocolate on chocolate, coconut sponge with passionfruit cream and lime curd for a tropical twist
Photo credit: I Could Kill for Dessert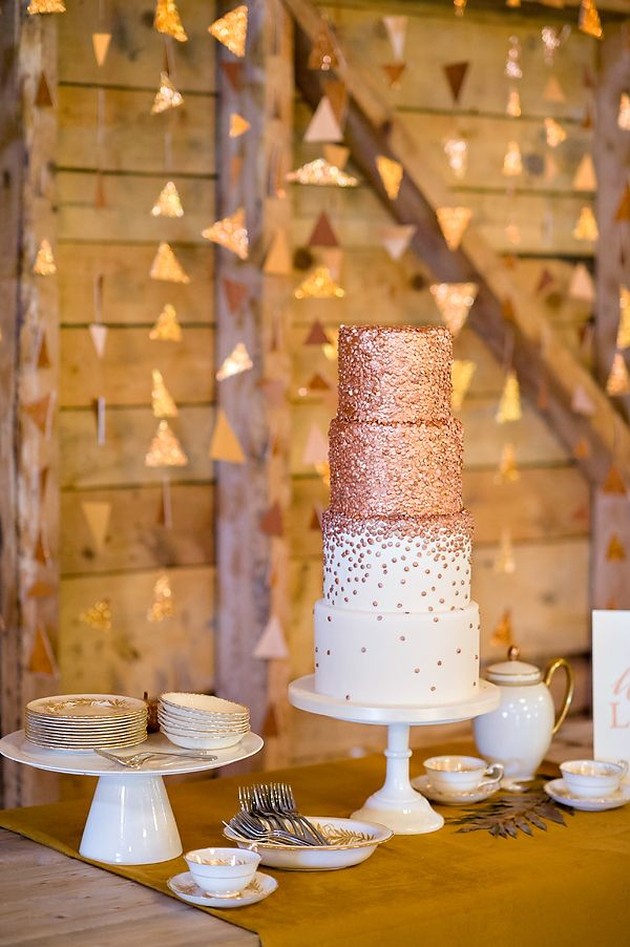 Metallic
Add some elegant shimmer and glam through a show stopping metallic cake design. Cakes can be top to bottom gold on gold or more understated with the addition of a single metallic layers, decals, piping or dusting. If you are going for a simple white on white theme, a metallic cake could really bring the whole style together with a pop of glimmer!
Flavour Profile: White chocolate and raspberry, lemon or classic vanilla
Photo credit: City View Bakehouse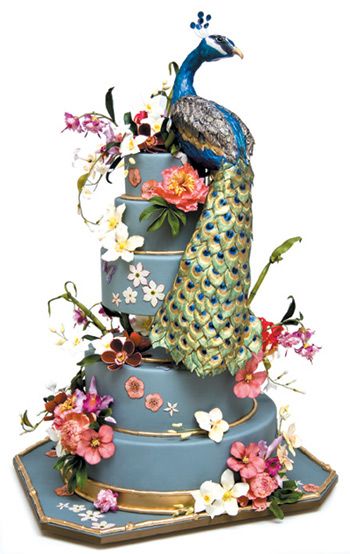 Sculptural
For many this will be the only time to be involved with such an elaborate cake design, so why not go big! Whether it is a fairytale castle, renaissance themed or your favourite mythical creature or superhero there are some amazing bakers who can craft thing you desire. These cakes are designed to be the centerpiece of the reception space, and you may need to have a 'kitchen cake' as well to serve to your guests.
Flavour Profile: Your cake may need some support, so think denser cakes like your favourite mud filled with delicious butter cream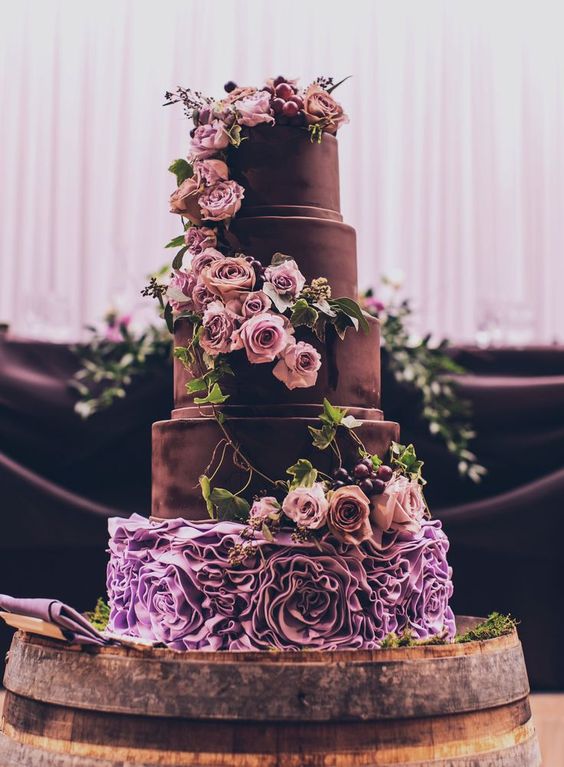 Floral
The addition of fresh flowers to any cake can take it from simple to incredible. Floral design can be fresh, silk or sugar craft if going for a more traditional style. The amazing array of colours and textures provided by flowers make for a stunning addition to every cake design. A floral design also allows you to play around with matching or contrasting flavours.
Flavour Profile: Orange blossom, rosewater and lavender
Photo via: Mod Wedding
---

After meeting as graduates at the University of Queensland, Nick & Emily took a trip down memory lane as bride and groom.
The team at Schonell Weddings & Events were proud to help plan their special day. We asked the charming young couple to reminisce on their experience.
Wedding Day: 27 September, 2014
Guests: 70
Describe your wedding in three words.
Elegant, relaxed and fun
You met one another through mutual friends during your undergraduate studies at the University of Queensland. When it came time to planning your wedding did Schonell Events & Weddings seem like an obvious choice?
We considered many options for where to have our ceremony and reception, but we just kept coming back to the idea of having both at UQ. It was the base of our relationship, and we had both spent so much time there studying and working that it has always felt like a second home.
The Natural Amphitheatre by the Lakes is beautiful. What drew you to this specific location?
The ceremony was held down in the Natural Amphitheatre by the Lakes, which was absolutely perfect. It included a long, slow, winding walk down the stairs for the bridal party, which allowed some beautiful pictures to be taken. We chose to have the guests sitting facing the lakes.
"It included a long, slow, winding walk down the stairs for the bridal party, which allowed some beautiful pictures to be taken"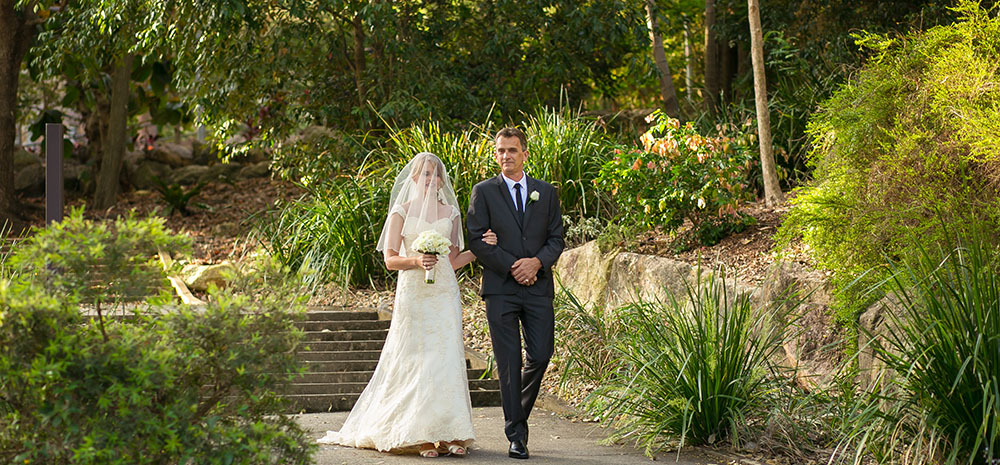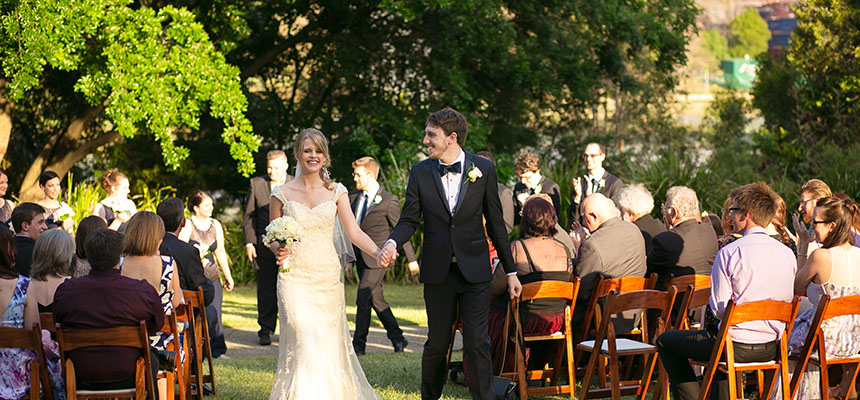 You held your reception in Innes Room One. How did you make the space work for you?
We liked the idea of allowing everyone to mingle throughout the evening, so we went with a cocktail-style including plenty of canapes and main dishes served in noodle boxes. We had four large tables with chairs, while the rest of the room was set up with dry bars, clusters of chairs, and couches.
We also had a photobooth, a DJ and a large dancefloor. The balcony was also a great space for our guests where had little tables and chairs set.
What was the highlight of the day?
The big highlight for both us and our guests, besides getting married of course, was that we'd inadvertently booked our wedding date as the same day as Riverfire - everyone absolutely loved being able to stand on the balcony eating their main dish out of noodle boxes.
"... we'd inadvertently booked our wedding date as the same day as Riverfire"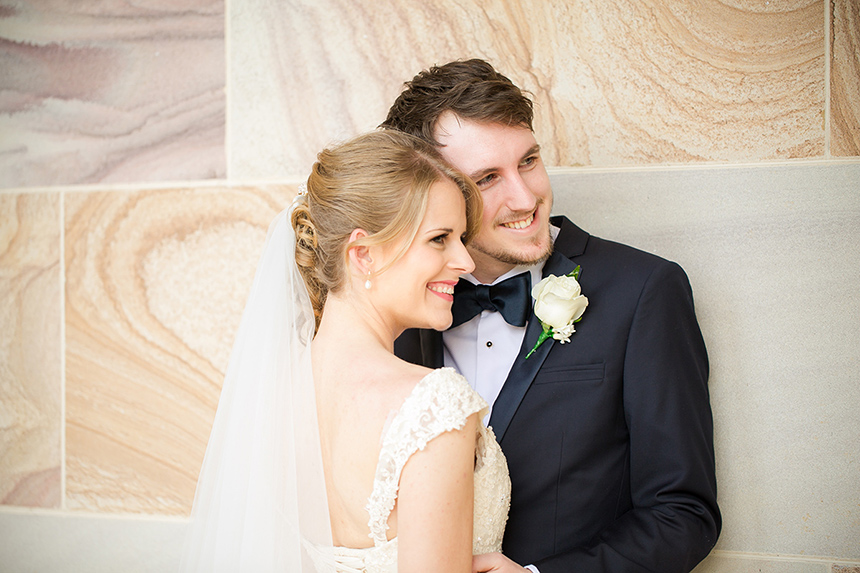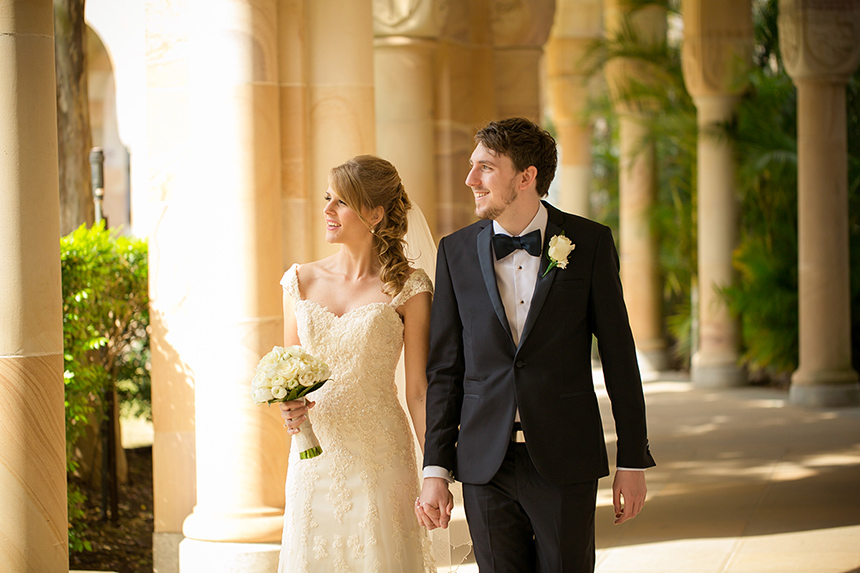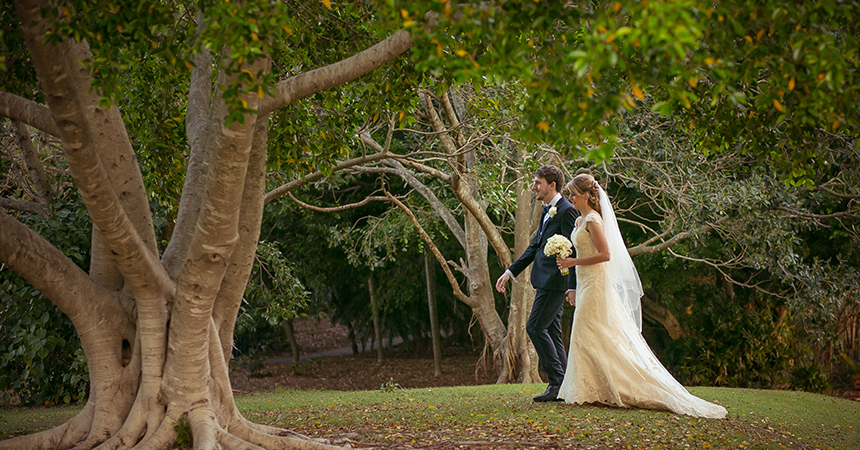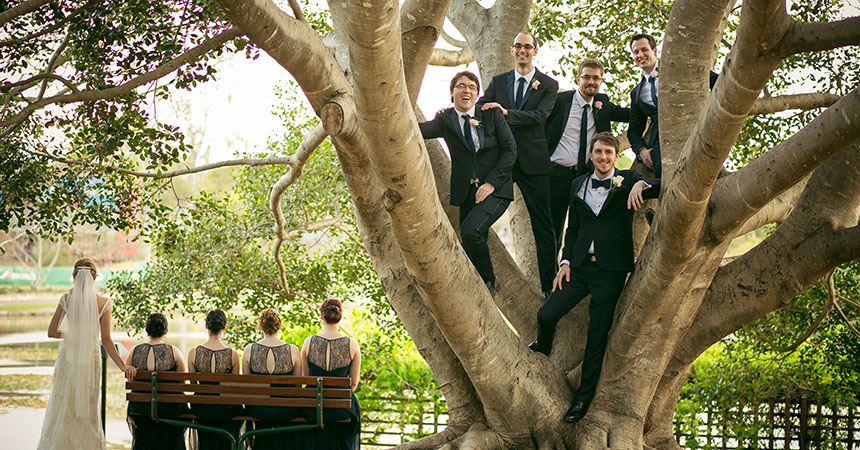 ---